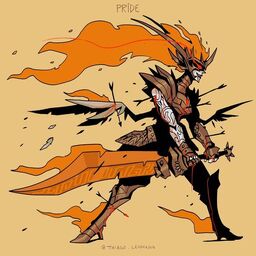 Pride is one of the Seven Deadly Sins and is the most vile of the seven, as it is the source of the others. It is an inflated desire to be more important than others, attractive than others, refusing or failing to acknowledge the good work of others, and excessive love of one's self.
Description
It is often synonymous with hubris, which is extreme pride. Hubris was considered one of the greatest crimes and was used to refer to insolent contempt that can cause one to use violence to shame the victim. This sense of hubris could also characterize rape. Aristotle defined hubris as shaming the victim, not because of anything that happened to the committer or might happen to the committer, but merely for the committee's own gratification.
In even more destructive cases, it is irrationally believing that one is essentially and necessarily better, superior, or more important than others, failing to acknowledge the accomplishments of others, and excessive admiration of the personal image or self (especially forgetting one's own lack of divinity, and refusing to acknowledge one's own limits, faults, or wrongs as a human being).
As pride has been labelled the father of all sins, it has been deemed the devil's most prominent trait. C.S. Lewis writes, in Mere Christianity, that pride is the "anti-God" state, the position in which the ego and the self are directly opposed to God: "Unchastity, anger, greed, drunkenness, and all that, are mere flea bites in comparison: it was through Pride that the devil became the devil: Pride leads to every other vice: it is the complete anti-God state of mind." Pride is understood to sever the spirit from God, as well as His life-and-grace-giving Presence. This is is why it is also associated with Lucifer, whose pride led him to oppose God as he viewed himself above Him. His defeat at God's hands and fall from grace gave rise to the phrase "Pride before a fall".
The corresponding virtue is humility. Pride can also be an emotion with good thoughts behind it, such as satisfaction with one's or others' choices. National Pride is born out a love for one's nation and its people, while racial pride is born out of love for one's fellow race.
Being of Pride