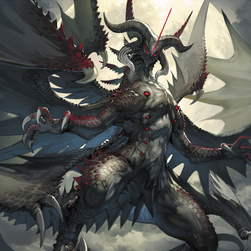 In Sumerian mythology, Kur is considered the first ever dragon, and usually referred to the Zagros mountains to the east of Sumer.
Although Kur was sometimes the home of the dead, it is possible that the flames on escaping gas plumes in parts of the Zagros mountains would have given those mountains a meaning not entirely consistent with the primary meaning of mountains and an abode of a god. The underworld Kur is the void space between the primeval sea (Abzu) and the earth (Ma).
In the Enuma Elish in Akkadian tablets from the first millennium BC, Kur is part of the retinue of Tiamat, and seems to be a snakelike dragon. In one story the slaying of the great serpent Kur results in the flooding of the earth. A first millennium BC cylinder seal shows a fire-spitting winged dragon, a nude woman between its wings, pulling the chariot of the god who subdued it, another depicts a god riding a dragon, a third a goddess.