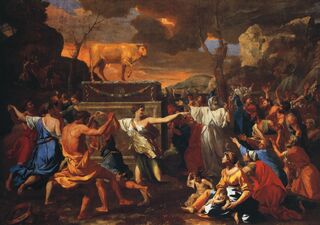 The Golden Calf was an idol (a cult image) made by the Israelites when Moses went up to Mount Sinai. In Hebrew, the incident is known as ḥēṭ' ha'ēggel or the Sin of the Calf. Some believe that the Golden Calf was even an aspect of the false deity, actual demon, known as Moloch.
History
When Moses went up into Mount Sinai to receive the Ten Commandments, he left the Israelites for forty days and forty nights. The Israelites feared that he would not return and demanded that Aaron make them "gods" to go before them. Aaron gathered up the Israelites' golden earrings and ornaments, constructed a "molten calf" and they declared: "These [be] thy gods, O Israel, which brought thee up out of the land of Egypt."
Aaron built an altar before the calf and proclaimed the next day to be a feast to the LORD. So they rose up early the next day and "offered burnt-offerings, and brought peace-offerings; and the people sat down to eat and to drink, and rose up to play." God told Moses what the Israelites were up to back in camp, that they had turned aside quickly out of the way which God commanded them and he was going to destroy them and start a new people from Moses. Moses besought and pleaded that they should be spared, and God "repented of the evil which He said He would do unto His people."
Moses went down from the mountain, but upon seeing the calf, he became angry and threw down the two Tablets of Stone, breaking them. Moses burnt the golden calf in a fire, ground it to powder, scattered it on water, and forced the Israelites to drink it. When Moses asked him, Aaron admitted to collecting the gold, and throwing it into the fire, and said it came out as a calf.