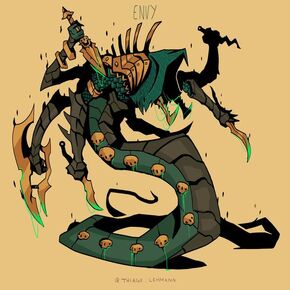 Envy, like greed and lust, is characterized by an insatiable desire. It can be described as a sad or resentful covetousness towards the traits or possessions of someone else. It arises from vainglory, and severs a man from his neighbor.
Envy is connected to the Leviathan, and is also said to be the motivation behind Cain murdering his brother, Abel, as Cain envied Abel because God favored Abel's sacrifice over Cain's.
Description
Malicious envy is similar to jealousy in that they both feel discontent towards someone's traits, status, abilities, or rewards. A difference is that the envious also desire the entity and covet it. Envy can be directly related to the Ten Commandments, specifically, "Neither shall you covet ... anything that belongs to your neighbour"—a statement that may also be related to greed.
Dante defined envy as "a desire to deprive other men of theirs". In Dante's Purgatory, the punishment for the envious is to have their eyes sewn shut with wire because they gained sinful pleasure from seeing others brought low. According to St. Thomas Aquinas, the struggle aroused by envy has three stages: during the first stage, the envious person attempts to lower another's reputation; in the middle stage, the envious person receives either "joy at another's misfortune" (if he succeeds in defaming the other person) or "grief at another's prosperity" (if he fails); the third stage is hatred because "sorrow causes hatred".