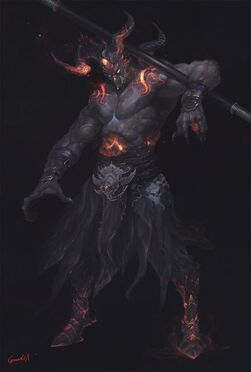 The 68th spirit in the Goetia, and one of the four crowned princes of Hell. Belial is a mighty and powerful king as he was created next after Lucifer and is of his order. He appears in the form of a beautiful angel sitting in a chariot of fire and speaks with a comely voice. His office is to distribute preferment of senatorships and to cause favor of friends or foes.
He bestows excellent familiars and governs 80 legions of spirits. Whoever summons him must have offerings of gifts or sacrifices or he will not give true answers to their demands, but even then with will not spend more than one hour on the truth unless constrained by divine power or his seal, to be worn as a lamin by the person who summons him. 
The name "Belial" means "'without a master'" and symbolizes true independence, self-sufficiency, and personal accomplishment. Belial represents the earth element, is the "Master of Mankind' and the "Champion of Humanity', and represents the carnal and base urges of humans, which is highly similar to Satan himself.