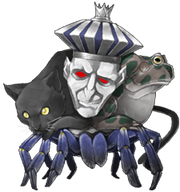 Baal is ranked as the first and principal king in Hell, ruling over the East. According to some authors Baal is a Duke of Hell, with 66 legions of demons under his command. The term "Baal" is used in various ways in the Old Testament, with the usual meaning of master, or owner. It came to sometimes mean the local pagan god of a particular people, and at the same time all of the idols of the land.
During the English Puritan period, Baal was either compared to Satan or considered his main assistant. According to Francis Barrett, he has the power to make those who invoke him invisible, and to some other demonologists his power is stronger in October. According to some sources, he can make people wise, speaks with a hoarse voice, and carries ashes in his pocket.
While his Semitic predecessor was depicted as a man or a bull, the demon Baal was in grimoire tradition said to appear in the forms of a man, cat, toad, or combinations thereof.