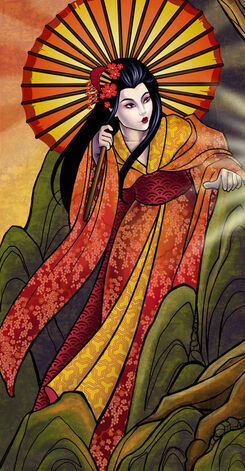 Amaterasu is the Japanese sun goddess who rules over the High Plain of Heaven. Amaterasu is the daughter of Izanami and Izanagi who made their daughter ruler of the sky. When her father Izanagi escaped from his visit to the underworld he had to perform a cleansing ritual in the river Woto and it was then, from the god's left eye, that Amaterasu was born. She is also the elder sister of Susanoo the storm god. Amaterasu constantly quarreled with her mischievous younger brother and finally having enough, Izanagi exiled him from heaven.
She became the ruler of the sun and the heavens along with her brother, Tsukuyomi, the god of the moon and ruler of the night. Originally, Amaterasu shared the sky with Tsukuyomi, her husband and brother until, out of disgust, he killed the goddess of food, Uke Mochi, when she pulled "food from her rectum, nose, and mouth". This killing upset Amaterasu causing her to label Tsukuyomi an evil god and split away from him; separating night from day.
Amaterasu is when she blocked herself in a cave following an argument with Susanoo when he surprised the goddess with a monstrous flayed horse when she was quietly weaving in her palace with her younger sister Waka-hiru-me. As a consequence of Amaterasu's disappearance the world was cast in total darkness and evil spirits ran riot over the earth. The gods tried all manner of ways to persuade the peeved goddess to leave the cave. On the advice of Omohi-Kane, roosters were set outside the cave in the hope their crows would make the goddess think that dawn had come.
The gods also placed a large sakaki tree (Cleyera japonica) outside the cave and decorated it with sparkling jewels (magatama), fine white clothes and a mirror at its centre. In addition, the goddess Amenouzume (or Ama-no-Uzeme) danced so wildly in a strip-tease routine that the other gods' uproarious laughter finally excited the curiosity of Amaterasu. Opening the blocked cave just enough to see what was going on and whilst distracted by seeing her stunning reflection in the mirror, the strong god Ame-no-tajikara-wo yanked the goddess out of the cave. Tuto-Tamu then held behind the goddess a pole of plaited straw and emphatically stated that the goddess could hide no longer and the world was once more bathed in her radiant sunlight.